Encyclopaedia Index
TITLE : TWO PHASE FLOW IN A COMPUTER CABINET
BY : S Zhubrin - CHAM-MEI DATE: SEPTEMBER 1995
PHOENICS VERSION: 1.4 Shareware
DETAILS :
Two-phase mixture of saturated liquid nytrogen with its vapour flows through the computer cabinet with two heat-generating chips and one adiabatic internal wall.

The gaseous N2 is generated on the heated chip surfaces governed by simple heat balance.

PLANT is used to insert the GROUND coding for the introduction of linear interphase friction law.
Further details of PLANT:
PLANT is a PHOENICS add-on which allows users to change the coding within certain GROUND groups and sections using PIL instructions in the Q1 file.

PLANT can include GROUND coding for non-linear property correlations, interphase transport features, initial fields, non-linear source laws and output control calculations.

PLANT is intended for use by those with a need to include GROUND routines but who either lack the necessary FORTRAN knowledge or who wish to same time by placing the necessary commands in the Q1 file

PLANT adds the required coding into GROUND and recompiles the EARTH executable before starting the run.

PLANT is included in PHOENICS 1.4 Shareware.
Pictures are as follows :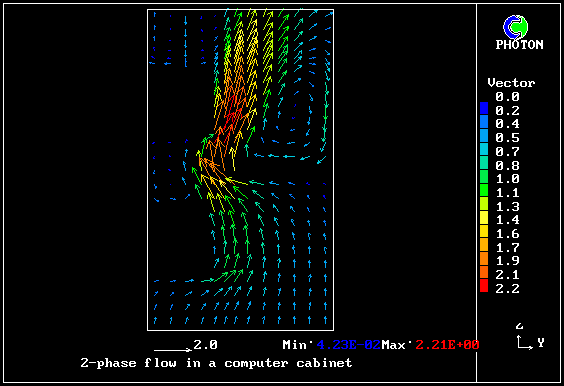 Liquid N2 velocity distribution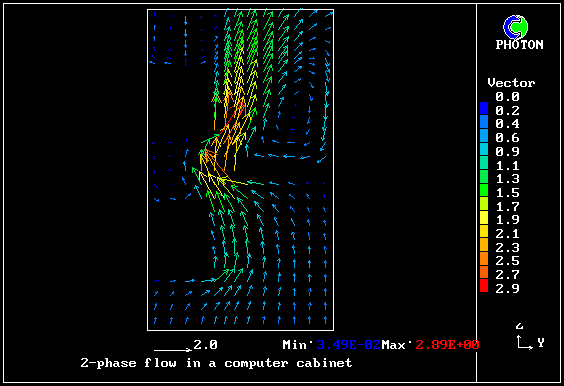 Gaseous N2 velocity distribution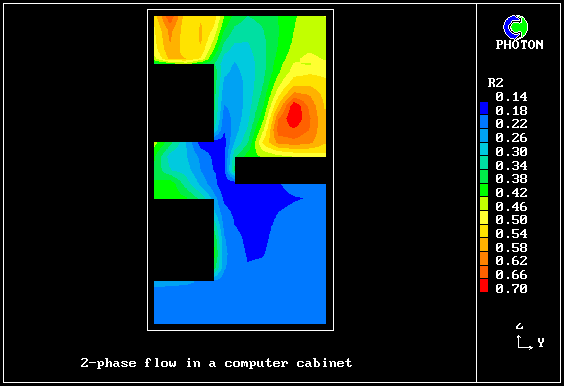 Gaseous N2 volume fraction contours
wbs